Maple Shade Pest Control & Termite Treatments
Superior results, supreme service. That's the mantra of the experts at Green Pest Solutions. Our technicians have years of experience in pest control throughout the Maple Shade and its neighboring areas. We offer eco-friendly options that keep your home and business safe from the dangers of pesticides.
Local Reviews
for Maple Shade, NJ
Powered by Nearby Now
---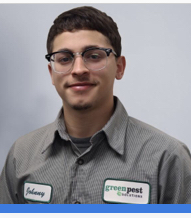 Jonthony M.
Today I was here for your 1st Quarterly service for general pest, first i removed all the cobwebs from around the exterior of the property, windows, doorways, and underneath the eaves. Then I applied a liquid treatment around the exterior of the property, windows, doorways, underneath the eaves and foundation as a preventative for general pest. Last I applied a moisture activated granule away from the foundation as a repellent for pest. Please allow 10-14 days for the materials to take full affect. Thank you for choosing Green pest solutions and I hope you have a wonderful day.
Near
Cutler Ave,

Maple Shade

,

NJ

08052
Daniel K.
Today I completed your quarterly pest control service. I checked the exterior rodent bait station. It had minimal activity I replaced the bait with new bait. I inspected the exterior perimeter of the home for any possible pest entry points and found none at this time. A granular perimeter treatment was used to reduce seasonal insect activity activity. Due to freezing temperature, I did not use a liquid. Please allow 10-14 days to see the best results. Thank you for choosing Green Pest solutions and have a great day.
Near
S Church Rd,

Maple Shade

,

NJ

08052