Pennington Pest Control & Termite Treatments
Pest Control Pennington, New Jersey
Pennington, New Jersey is an amazing place to live. Unfortunately, pests like cockroaches, termites, ants, and bees agree with you. While you might have to tolerate the neighbors with the interesting lawn decorations, you can kick pests out of your space. All you have to do is call your neighborhood pest experts at Green Pest Solutions!
Comprehensive Pest Control Services in Pennington, New Jersey
Green Pest Program for Pennington, New Jersey
At Green Pest Solutions, we believe preventative care is the best way to handle pests. That's why we developed our Green Band Protection System for our neighbors in Pennington, New Jersey. This program takes a common-sense approach to pest control, starting by treating the outside of your home and working in, only using human-, animal-, and plant-safe measures. Our Green Pest Program includes:
An initial pest control service as soon as possible, or whenever is good for your schedule
Quarterly treatments beginning 30 days after your initial service
A free annual termite inspection to ensure your home is free from this devastating pest
A guarantee we will be back as many times as necessary if pests return
Extermination Services for Pennington, NJ
We know not every pest problem can be prevented, so we offer extermination services for all of the insects and rodents present in Pennington, New Jersey, including:
Ants
Cockroaches
Stinging pests
Stink bugs
Spiders
Spotted lanternflies
Silverfish
And more
Termite Inspection and Control
Did you know termites cause $5 billion worth of structural damage throughout the United States every year? This is one pest, in particular,
you don't want to mess with. Green Pest Solutions offers both termite inspection and termite control services to ensure termites are exterminated and removed from your home as soon as possible to minimize structural and financial damage.
We'll Handle the Pests. You Enjoy Pennington, New Jersey.
Don't let pest problems hold you back from having fun. We've got that covered for you! Pennington boasts many opportunities to get out and about to enjoy the area, and you don't want to miss a thing due to DIY pest control or the stress of dealing with an infestation.
Pennington Day is a community favorite! This special annual event is held every May, dating back to the 1980s. Local organizations and businesses set up booths in a street-fair style on Main Street. Enjoy local music and a parade early in the day, and then stick around for the festivities continuing into the afternoon.
If you love to spend time outside, you'll find yourself spending plenty of time in the Pennington, New Jersey area on the Lawrence Hopewell Trail. There are 16 trail segments and many opportunities for walking, bird-watching, biking, running, geocaching, letterboxing, horseback riding, picnicking, x-country skiing, and more.
Pennington is home to the Hopewell Valley Vineyard. Enjoy more than just a delicious bottle of wine, and head over for food and music. It's also a great venue for your event!
Choose Local. Choose Green Pest Solutions for Pest Control.
When it comes to pests in Pennington, NJ, the experts at Green Pest Solutions have seen it all! By choosing local pest control, you are working with a company that knows all about the unique insects, rodents, and more that invade our area of the country. Plus, we pride ourselves in helping employ members of our community. All of our pest specialists and technicians are certified in multiple pest categories in PA, NJ, and DE. Plus, we pride ourselves in offering the top customer service in the industry, proven by our multiple five-star ratings across a variety of platforms. Call us today at 877-636-9469 to experience the Green Pest Solutions difference!
Local Reviews
for Pennington, NJ
Green Pest Solutions
Rated
4.6
out of 5 stars based on
21
customer reviews
Powered by Nearby Now
---
Excellent service!!!
Jennifer

-

Pennington

,

NJ



Review of Green Pest Solutions
Johnny was incredibly personable and knowledgeable. Was on time, treated all areas of concern and just a pleasure to work with.
---
Response from Green Pest Solutions:

Hi Jennifer, thank you for the 5 star review on the excellent service!
---
Professional
Del

-

Pennington

,

NJ



Review of Green Pest Solutions
John was professional and courteous. After discussing the concerns, he provided his professional opinion and completed a very thorough job.
---
Jonthony was fantastic
Selena

-

Pennington

,

NJ



Review of Green Pest Solutions
---
Response from Green Pest Solutions:

Hi Selena, thank you for the 5 star review on the fantastic service by Johnny!
---
Thanks for your help!
Susan

-

Pennington

,

NJ



Review of Green Pest Solutions
Jonthony was cordial and helpful and the ants seem to be much reduced.
---
Response from Green Pest Solutions:

Hi Susan, thank you for the 5 star review on the service performed by Johnny!
---
Martin W.
Today I completed your quarterly pest control service. A liquid residual treatment was applied around the exterior of home. And another liquid treatment was applied throughout master bedroom, bathroom, basement, entry ways in family and dinning room. Also glue boards were placed throughout basement to monitor and control any insect activity. An ant gel was applied around kitchen sink and window. Ant gel baited arenas were left on counter to be moved wherever ants might be seen. The exterior rodent bait stations were inspected, no new activity was found. Please contact our office if you have any questions or concerns. Thank you for using Green Pest Solutions and have a great day.
Near
Sked St,

Pennington

,

NJ

08534
Dani D.
Service call ants. Let me know how I did :)
Near
Pennington Harbourton Rd,

Pennington

,

NJ

08534
Dani D.
Pest service. Let me know how I did :-)
Near
E Delaware Ave,

Pennington

,

NJ

08534
Brennan C.
Quarterly pest control service completed. Treated exterior perimeter with residual to help control seasonal pest activity. Treated interior for spiders and stink bugs. Glad to hear everything has been okay. Have a great day!
Near
Woosamonsa Rd,

Pennington

,

NJ

08534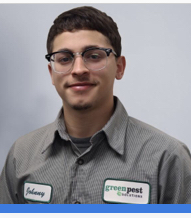 Jonthony M.
Hello! Today I was here for your one time service for Carpenter ease, first I performed a thorough inspection, interior throughout the attic and no pest activity was found. Then I applied a liquid treatment around the exterior of the property, , windows, doorways, underneath the eaves, detached garage and foundation as a preventative for pest. Please allow 10-14 days for the materials to take full affect. Thank you for choosing Green Pest Solution and I hope you have a wonderful day.
Near
W Welling Ave,

Pennington

,

NJ

08534